Ranu Mandal was born on 5 November 1960 in Nadia of Bengal. She was married with Babul Mandal in Mumbai. She had a daughter named Shati Mandal. Ranu Mandal had a lot of desire for music and to sing since her childhood. Shocking is this that Ranu Mandal's full name is Ranu Maria Mandal. The alias name of Ranu Mandal is Ranu Bobby as first she used to sing in a club.
She used to sing songs, so she got the name Ranu Bobi from the club itself. She used to earn some money by singing songs, but her family neither liked her voice nor her work, which caused Ranu to stop singing.
Life Journey of Ranu Mandal filled with Sorrow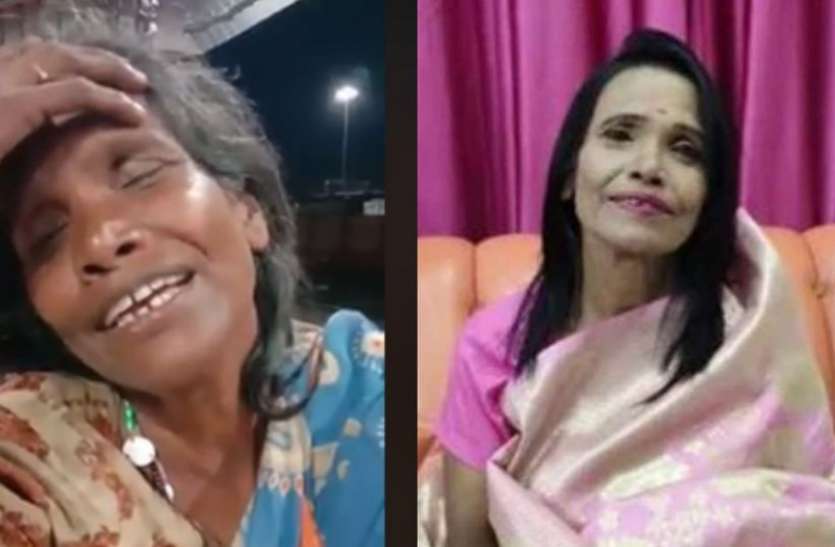 Due to not getting any help from home, it became very lonely for her. Later, her husband died, due to which their source of income was also exhausted, then followed by which Ranu Mandal started singing again. Now she used to sing at the railway station to get some money for survival. Now that her daughter has grown up, so she got married. But after marriage, she did not like her mother to sing at the railway station and was embarrassed by that, so she got away from her and never met her mother again.
Journey From Railway Station to Music Studio
Yes, friends Atindra Chakravarti is the only person who has made Ranu Mandal a hero from zero today. Atindra Chakravarti met Ranu Mandal at Railway Station for the first time and became obsessed with her voice. At the station, she used to sing Lata Mangeshkar's Song Ek Pyaar Ka Nagma Hain. So, Atindra Chakravarti made a video of this song and on 21 July 2019, Posted it on his Facebook account.
The video went viral in no time and a number of people watched that video and the views increased to millions. But when Himesh Reshammiya also saw this video, he also liked the voice of Ranu Mandal and Himesh Reshammiya brought her to his studio and he gave her a chance to Record an upcoming song of the movie "Teri Meri Kahaani".
When it was uploaded on YouTube, this video also went viral and within 2 days, the number of people watching it increased to 30 lakhs and sources are being told that Himesh Reshammiya paid them about 7 lakhs fees for this song, However Ranu Mandal refused to take the money but Himesh Reshammiya forcefully handed her the money back.
Changes and happiness in Ranu Mandal's life
Today, Ranu Mandal has become a famous star of singing world and With the biggest support of Atinder Chakraborty. Now, her daughter also got impressed with her popularity and contacted her again after a decade. Now, she has gifted with a new life and we hope she will make her life more successful.
Her daughter also says that she was very upset Because she was divorced with her husband. Himesh Reshammiya also supported Ranu Mandal. Himesh Reshammiya has offered her to sing for his upcoming film Happy Hardy and Heer and not only him. But the biggest actor Salman Khan has also said that you will sing songs in my film too. Akshay Kumar has also said that she will sing in my films too.
This is all about Ranu Mandal's Life story and we hope you guys are inspired by it.